More properties are passing in at auction, with buyers and sellers turning to post-auction negotiations to secure a sale. But experts say buyers should be prepared for potential traps.
As property prices fall, some buyers hesitate to bid on the auction floor in the hope of picking up a bargain later, but these people risk being outbid afterwards by an unexpected rival.
Auction clearance rates have fallen from the 80 per cent range achieved during last year's boom to hover closer to 60 per cent or under, leaving some homes taking longer to find a buyer. On Saturday, the preliminary auction clearance rate was 56.1 per cent in Sydney and 58.2 per cent in Melbourne.
Real Estate Buyers Agents Association of Australia president Cate Bakos has seen a couple of properties go to post-auction negotiations recently, though she said that often if a selling agent knows there is a chance of a pass-in they will try to sell the home before auction.
She advises buyers to bid at auction because, even when a property passes in, the highest bidder has the first opportunity to negotiate with the seller at the seller's reserve price.
When the parties go inside and negotiate, the process often takes less than half an hour, as agents hope for a sale on the day.
One issue can be mismatched price expectations – buyers accustomed to seeing homes fly above the price guide in the boom might mentally add a premium to a price guide and conclude they can't afford it, when the vendor's expectations are actually realistic.
"Recently, we had one – I thought the vendor wanted $1.85 million, my client only had a budget of $1.8 million, we didn't bid on it," Bakos said.
"We ended up buying it for $1.78 million."
She also cited a vendor who defended their price expectations and threatened to take the home off the market and rent it out instead, so Bakos gave examples of recent comparable sales to support her buyer's position.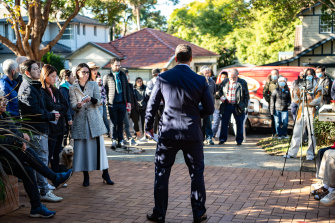 "Do your comparable sales analysis and have a collection of properties you can point to," she said.
She also recommends being upfront with an agent by saying: "I'm pretty certain this is out of my budget but if it passes in, please call me," and checking sold results online on Saturday evening to be the first person to ring the agent and ask about something that is still available.
Buyer's Domain principal buyer's agent Nick Viner said post-auction sales are rising, and the reason usually comes down to price expectations, though a quiet auction was no guarantee of later success.
He recently missed out in a post-auction process for a Lilyfield house that attracted no bids on the auction floor, and although the vendor's expectations came down, another buyer emerged in the last 24 hours offering $50,000 more than his client.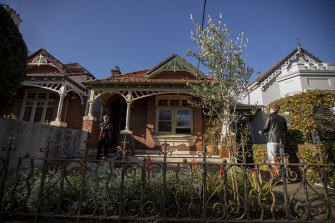 "You can have this effect where the buyers that might have thought it was too high – it might have been a reason that held them back – the price has been lowered, they're more interested, other buyers come to the table," he said.
"That's what the agent is doing to generate some interest."
Ray White NSW chief auctioneer Alex Pattaro said while post-auction sales are happening more frequently, homes often sell within a few weeks.
He said some buyers think that not bidding will help snag a bargain, but it can backfire.
"It doesn't work. It opens the pool up for other buyers who couldn't bid under auction conditions," he said, referring, for example, to buyers who need to make an offer with conditions such as "subject to finance".
In Melbourne, Belle Property Albert Park principal director David Wood said that in a market where there is roughly one buyer for every seller, an auction result does not indicate the quality of a home.
"If a property is being passed in, buyers shouldn't look at it and say there's something wrong with it," he said.
Buyers accustomed to rising markets might look at a price guide and expect a property to sell for more, he said, but when a home passes in they realise the owner might be in a position to sell at the guide.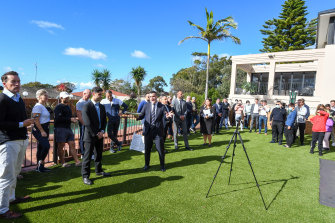 He advised buyers to think about the price they would be prepared to walk away at, and allow other parties to make offers.
"If by 6 o'clock tonight someone else had bought the house at a price we were prepared to pay, would we be disappointed?"