Top public servant contacted by woman who missed out on US trade role
The state's most senior public servant was contacted in January by the woman who was overlooked for US trade commissioner before John Barilaro was appointed to the role this month.
Department of Premier and Cabinet secretary Michael Coutts-Trotter received an email from former Investment NSW deputy secretary Jenny West after her expected appointment to the job was scuppered.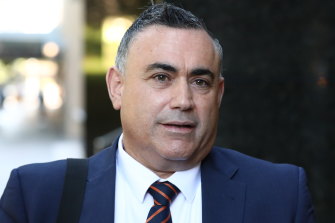 The Herald can reveal West requested a meeting and expressed serious concerns in a report numbering some 45 pages about how she had been treated. Her email was subsequently referred to Investment NSW.
The bureaucrat was the preferred candidate and had been preparing to take up the plum New York role before it was readvertised in December.
Barilaro was appointed earlier this month without the decision being presented to cabinet, outraging Liberal ministers and backbenchers. It was one of five global trade commissioner roles Barilaro had created while he was trade minister.
Premier Dominic Perrottet has moved to distance himself from the appointment of Barilaro, which has triggered two separate inquiries to examine the probity and integrity of the process. Perrottet has said it would have been inappropriate for the role to be considered by cabinet because it was not a ministerial appointment.
Inquiry outsourced
Coutts-Trotter was personally asked by the premier to investigate the hiring process that led to Barilaro's appointment to the $500,000-a-year job, but on Saturday he announced he would outsource the inquiry to EY consultant Graeme Head.
A DPC spokeswoman said Head, a former public service commissioner, was engaged to "ensure the utmost transparency and public confidence in the whole process".
"The secretary of DPC received an email from Ms West reaching out for a meeting to discuss her situation. It was not a formal complaint," she said.
The Herald can also reveal Barilaro was considered for the top job at Greyhound Racing NSW after chief executive Tony Mestrov announced his departure to become the new boss of the Manly Sea Eagles last month.
Several racing sources, who are not authorised to speak publicly, claimed Barilaro had been a preferred candidate before he was offered the trade commissioner role.
Greyhound Racing NSW chair John Williams said Barilaro had not applied for the role and that a recruitment process was being conducted by an external firm.
Barilaro declined to comment and referred all questions to Investment NSW.
The DPC review by Head will examine the recruitment process leading to Barilaro's appointment, any conflicts of interest that may have arisen in the selection process, and whether his recruitment complied with the government's own rules for hiring public sector staff.
It is separate to a NSW upper house inquiry to start on Wednesday, when Investment NSW CEO Amy Brown will be the first witness to give evidence.
'Final decision-maker'
Brown, who reported to Barilaro when he was the trade minister, was described by the premier as the "final decision-maker" in appointing Barilaro.
Leader of the opposition in the upper house Penny Sharpe said the premier must explain why his department had outsourced its review into the US trade commissioner role.
"There are just so many questions that need answering, and yet we still haven't heard from the government that they're not sending him. They need to not put John Barilaro on the plane until these inquiries are finished," she said.
An Investment NSW spokesperson said the date of Barilaro's commencement with Investment NSW and his onboarding were yet to occur.
'A disaster': Lib MP
The appointment is developing into a worsening scandal for the Perrottet government, after overshadowing its budget delivery last week. One Liberal MP, who requested anonymity to speak freely, said the situation was a "disaster".
"Ultimately, the public expect someone to be held accountable and, until somebody is, this will remain an ongoing disaster for the government," they said.
Documents produced under parliamentary order have revealed Investment NSW contracted a global recruitment firm to fill the trade commissioner roles.
However, Brown cancelled the global search after receiving instructions the roles were likely to instead become ministerial appointments. The Herald does not suggest any link between that sequence of events.
Further internal emails, seen by the Herald, reveal Investment NSW general counsel Chris Carr sought urgent advice around the same time about changing the process from public service to ministerial appointments, following a cabinet meeting.
"We are now asked to consider whether there are alternative methods. Specifically, we have been asked whether there is an option for ministerial appointments," he wrote in an email in September last year.
"The urgency driving this is that recruitment processes are well advanced for the next batch of appointments and there is now a need to clarify whether this alternative is viable."
At the upper house hearing, Labor will probe what prompted Investment NSW to consider the roles becoming ministerial appointments and why it was ultimately not progressed.
Cut through the noise of federal politics with news, views and expert analysis from Jacqueline Maley. Subscribers can sign up to our weekly Inside Politics newsletter here.