Sydney's inner-city set for sparkling rooftop pool in $200m project
Sydney's inner-city is set to get a rooftop infinity pool to rival any beach setting when TFE Hotels opens its first Collection brand boutique-style property within the TOGA group's $200 million mixed-used project.
Set in Surry Hills, TFE's 102-room hotel will offer a rooftop pool with sweeping city views in the heart of the popular dining and shopping precinct in early 2024. The hotel will be the fifth under the Collection banner, which includes Brisbane's Calile Hotel and New Zealand's first five-green-star hotel, The Hotel Britomart.
TFE is the hotel arm of the TOGA group and will be part of the mixed-use development, which covers 1.2 hectares and includes 122 apartments and up to 12,000 square metres of retail and commercial space. TOGA will also incorporate a 517-square-metre public pedestrian thoroughfare linking Marriott Street and Baptist Street.
It is currently under construction, and the developer and hotel have worked closely with the local community to ensure the project incorporates the eclectic nature of the inner-city precinct.
Located near Sydney's new tech hub and the home of the Atlassian tower and new Central Park developments, the inner-city areas are undergoing a development surge. TOGA has combined a number of properties to create the project, which also includes reusing the former Bank of NSW building on Cleveland Street.
TFE Hotels chief executive, Antony Ritch said that as with all Collection hotels, guests can expect a distinct design-led hotel with "bespoke service and attention to the individual".
"The addition of curved brickwork, stone pathways, and the cloister – an activated restaurant and bar space within the hotel – rounds out the guest experience," Ritch said.
"Surry Hills is home to one of the city's premier restaurant, dining, and boutique precincts. This Collection property will become a destination in its own right."
Ritch added that with many people opting for staycations, domestic tourists are exploring their own cities and looking for hotels that offer an experience rather than just a bed.
"Sydney is made up of micro cities and micro environments. And each one of them is so different that you can have vacations just around Sydney, and Surry Hills is one of those incredibly vibrant areas that has cafes, a dining precinct, and an eclectic cultural scene," he said.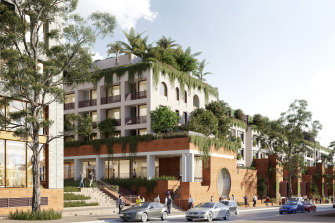 TOGA managing director and chairman of TFE Hotels Allan Vidor said the Surry Hills Village development brought together the best of Surry Hills and Redfern into one "stylish destination".
"This will be a curated precinct of sophisticated retail, a new bespoke hotel, stylish residences, a progressive workspace and contemporary event spaces," Vidor said.
"Important to our vision is the legacy we create and leave for the communities in which we develop, and we see that Surry Hills Village will be a place that people can live, work, stay and visit for many years to come."
Fink Group, owner and operator of some of Sydney's leading restaurants, including Quay, Bennelong, Firedoor and Otto, will sit at the centre of the dining destination.
TOGA development and construction chief executive Fabrizio Perilli said the project is a city within a city.
"We are quite excited with where we're at, and what's ahead of us," Perilli said.
"It's a unique parcel of land that is not going to come around again. There is only one opportunity to purchase an apartment in the precinct and where we're attracting many owner-occupiers."