SBS makes history with refreshed Tour de France line-up
Dr Bridie O'Donnell could "talk about cycling all day" and she'll soon have to. The former world hour record-holder and Australian time trial champion has 35 days of non-stop work ahead of her, commentating first the 23-day Tour de France and then the eight-day Tour de France Femmes avec Zwift.
O'Donnell is part of a refreshed Tour de France line-up for SBS, which also includes former professional cyclist and Tour de France stage winner Simon Gerrans in the commentary box, and two-time national road champion Gracie Elvin reporting on location.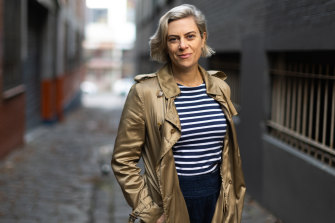 Long-time commentator Matt Keenan returns, calling his 16th Tour, as do David McKenzie and Christophe Mallet, who will join Elvin on location for both races. Mark Renshaw will host new digital series The Finale, while French chef Guillaume Brahimi rounds out the coverage with his butter-heavy food series Plat du Tour.
Missing from the broadcast will be long-time commentator Mike Tomalaris and former Australian cycling champion Robbie McEwen. Tomalaris was forced to resign in October for what he called a minor breach of the broadcaster's code of conduct. SBS did not comment publicly about the reason for Tomalaris' departure. McEwen was cut from the network in January and wrote on Twitter that he was axed from the team so SBS could "deliver their broadcast differently".
O'Donnell says the new SBS line-up ensured women's voices were heard in expert positions across all sports, no matter the gender of the competitors.
"[Women] can be in decision-making positions," she says. "We have a female executive producer [Catherine Whelan] because she's the most capable person for the job right now. But it is different [being a woman on TV] …
"Gracie and I will get criticised for how we appear. No one cares about how Simon and Matt and Christophe and Macka [David McKenzie] look on TV. We have to manage that; we have to be expert and capable in our fields, and we have to acknowledge that people's judgments of our appearance are part of a patriarchal rubbish we need to move aside from, so it is much more complex to be a woman on television."
O'Donnell says SBS "is the most supportive environment I've ever worked in sports media".
This year's Tour marks the rebirth of the Tour de Femmes, with the women's race returning for the first time since 1989. It starts at the Eiffel Tower on July 24, which is the same day the men's race finishes, and concludes eight days later atop the Planche des Belles Filles in the Vosges mountains in France's east.
Elvin, who retired in 2020, says viewers shouldn't get too hung up on the fact the Tour de France Femmes is a shorter race; the real victory is that it's happening at all, especially since it has been promised since 2014.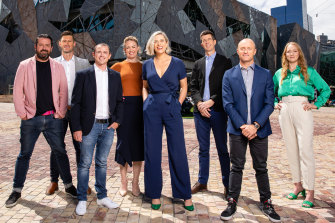 "Women's cycling has come such a long way and the abilities and the level of professionalism is really high now," she says. "But there's still a huge stress on the teams to go for a Tour that long, there's just not quite that support there to logistically make [a longer race] happen.
"There's a real sweet spot there for female cycling to have an eight- or even up to 14-day tour. And you're going to get a more exciting race with a shorter time frame. So eight days this year is a perfect start."
This year the men start in Copenhagen, with three days of racing in Denmark before teams travel to Dunkirk and then south through France, Belgium and Switzerland before finishing in Paris. All up, they'll cover 3328 kilometres across 21 stages. It's a slog for the riders but also the SBS team, who will be on the ground in Europe for the first time since 2019.
Not only do they need an intimate knowledge of the riders and the race ("I'm sorry to lift the fourth wall here but Matt Keenan is looking at his computer all the time," says O'Donnell), they must cover the same ground as the riders, too. The commentary team will be parked at each stage finish, while Elvin, Mallet and McKenzie will report from the course.
"In a lot of ways, being the athlete is the easiest job," says Elvin. "It's going to be longer days and harder days because I'll be sharing the driving with the guys, and I'll have to be the one to take my suitcase to the room, and I'll have to do my own laundry and figure out what I'm eating every day."
In terms of French holidays, it's less Cannes Film Festival, more Contiki tour.
Says O'Donnell: "Apparently David McKenzie knows where all the laundrettes are, so he's the guy we should give our bags of laundry to."
And while a 35-day jaunt through Denmark and France sounds delightful after two years of closed borders, spending more than a month on the road with work colleagues is a different proposition altogether. How does O'Donnell think she'll cope?
"I'll tell you when I get back in August," she says.
SBS will broadcast the Tour de France from July 1-24 and Tour de France Femmes avec Zwift from July 24-31.