Market divided on merits of potential Suncorp break-up
Investors and analysts are divided over the case for hiving off Suncorp's banking division after the insurance conglomerate confirmed it was considering its options.
Suncorp shares rose on Monday after the company told the ASX it was reviewing "strategic alternatives" for its banking arm, in response to a report in the Australian Financial Review that it was mulling a possible sale or spin-off of the bank.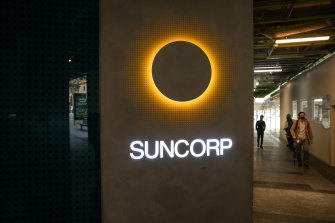 For years there has been speculation Suncorp could offload its bank, which accounts for about a third of group profits, and has been valued at about $4.5 billion by Morningstar analysts.
Suncorp chief executive Steve Johnston appeared to pour cold water on the idea when he was appointed in 2019, pointing to practical reasons for keeping the bank and the insurer together. "The bank is core and strategically important to the group, and the focus is about making it stronger," he said.
But Suncorp's board now appears to be considering its options for the bank, though its statement on Monday was scant on details: "As previously advised, Suncorp, from time to time, reviews its strategic alternatives in relation to all of its businesses and is currently doing so in respect of its banking operations," Suncorp said.
The review is likely to prompt ongoing interest from the market, as some think Suncorp's larger insurance business would fetch a higher valuation if it did not also have a bank attached to it.
Hugh Dive, chief investment officer at Atlas Funds Management, backed splitting up the business, pointing to Tabcorp's recent de-merger of The Lottery Corporation, which made a strong debut on the ASX last month.
In Suncorp's case, Dive said the combination of a bank and insurance company meant it traded at a lower price to earnings multiple than if it were purely an insurer. "When you're buying Suncorp, you're not really buying it for the bank, you're buying it for the insurance," Dive said.
However, others are unconvinced about the case for splitting up the business, pointing to the added costs of running Suncorp's bank as a standalone operation.
Morningstar analyst Nathan Zaia said while there were some high-level arguments for separating the bank and the insurance businesses, Suncorp's bank currently benefited from lower funding costs because it was part of a bigger group.
Zaia said it was unlikely that competition authorities would allow a big four bank to buy Suncorp's banking unit, and it was a "tough market" for regional banks such as Bank of Queensland and Bendigo and Adelaide Bank.
"I don't think that just splitting them up miraculously changes the outlook for either business. It does give investors an option, however, if they want to hold one or the other," Zaia said.
Opal Capital portfolio manager Omkar Joshi said making Suncorp's bank as a standalone company would create additional administrative costs, funding costs and capital requirements.
While Joshi said a pure-play insurer may attract a higher valuation, this could be cancelled out by a lower valuation for Suncorp's bank, if it were a standalone business. "I don't think there's a reason to do it from a financial market perspective," Joshi said.
Suncorp shares gained 3.6 per cent on Monday to $11.22.
The Market Recap newsletter is a wrap of the day's trading. Get it each weekday afternoon.