"Angry" Arthur Moses SC has been attracting attention for his, ahem, robust approach to representing his client Ben Roberts-Smith in his high-profile defamation case against the Sydney Morning Herald and The Age, with one participant likening the silk's cross-examination style to a "rabid dog".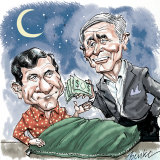 But Moses, who is stepping out with former NSW Premier Gladys Berejiklian, was showing his softer side last week, having a go at the Vinnies' CEO Sleepout event in Sydney – as he has done each year since 2015 – to help raise money for the city's homeless.
All up, he's raised more than $22,182, smashing his target of $15,000.
And the list of donors to Moses's fundraising effort is intriguing: billionaire Kerry Stokes, who is underwriting Roberts-Smith's very expensive litigation, chucked in a couple of grand.
Another member of the BRS legal team, Monica Allen, who raised eyebrows last year when spotted holding hands with her client in Brisbane, chucked in $300 with a message of thanks for her "fearless leader".
Canberra car dealer and Australia Day Council board member Richard Rolfe chimed in with $525 and what appeared to be a crude aside.
Another contribution to Moses' good works caught our eye with "anonymous" donating $2000. Who could that be?
Lost in trans-lation
Katherine Deves' return to Twitter was short-lived. The anti-trans campaigner and defeated Liberal candidate for Warringah deleted her account this weekend, after a brief comeback to the kind of posting that made her such a divisive figure during the recent election campaign.
But other conservative culture warriors aren't going quietly on this front, and in a week where international swimming banned trans women from competing in female events, right-wing activists continue to focus their attention on gender.
It's why Facebook users in Victoria are being greeted by a series of targeted advertisements from anti-trans group Binary Australia, accusing Premier Dan Andrews of wanting to "teach transgender to your kids".
The face behind the advertisements is the ever-charming Kirralie Smith, a professional conservative hardliner who first sprung to infamy as a prominent member of anti-Islam organisation the Q Society, where she led a crusade against halal food.
After briefly flirting with the prospect of running for the Senate under Cory Bernardi's Australian Conservatives, Smith has turned energy almost entirely to trans issues and "gender ideology".
While both the Q Society and Australian Conservatives are now defunct, Smith, who was unable to be contacted before deadline on Sunday, is still out there, spamming the newsfeeds.
Doctor lobby's headliner unmasked
In one of the surest signs we've reached a point of COVID-normality, the Australian Medical Association, a group which relentlessly pushed for tougher restrictions throughout the pandemic, is returning to in-person events, with hundreds expected at its national conference next month.
What's more, they're calling the event "After COVID," and billing it as a discussion about Australia's health in a "post-pandemic" world, with a three-day conference and schmick gala dinner to boot. We hope they're wearing masks!
The doctor lobby has landed a pretty big coup, with US President Joe Biden's octogenarian chief medical adviser Anthony Fauci set to give an address.
We hear the good doctor will only be Zoom-ing in from the US, but the AMA hopes to have a sizeable in-person attendance at Sydney's International Convention Centre.
Fauci is by far the biggest drawcard – but local notables include Health Minister Mark Butler and his Coalition counterpart Anne Ruston who will both take questions from the floor, and Health Department secretary Brendan Murphy.
Joining from the now-familiar carousel of local COVID experts is Kirby Institute's biosecurity program head Raina MacIntyre, renowned as one of the most hawkish, risk-averse pandemic commentators around.
Dutton demands end to shenanigans
Before the Liberal Party can dream of mounting a serious electoral challenge to Anthony Albanese, it has to fix its NSW division, where an arcane factional dispute led to a full-fledged internal civil war, with court battles and delayed preselections hammering the party's chances at last month's poll.
This is why it wasn't such a surprise to see Opposition Leader Peter Dutton make the rare show of dropping in on a meeting of the party's state executive last Friday night, where NSW Premier Dominic Perrottet also made an appearance.
CBD hears the message from Dutton was for the party to avoid a repeat of that whole fiasco. And it was delivered as reforms designed to increase grassroots control of preselections, drafted by moderate Senator Andrew Bragg and barrister Jane Buncle, were set to be put to the party's AGM next month.
Dutton's appearance on Friday was viewed by some as an endorsement of the reform proposals.
Supporters hope the reforms will prevent a repeat of those shambolic preselection issues, and reckon there's strong support across factional and geographic lines for the changes, which were also backed by the NSW Young Liberals yesterday.
"The party was absolutely embarrassed at the last election because of these shenanigans. We have the momentum, we need to use it," Bragg told CBD.
Now, the ball is in the court of former prime minister Scott Morrison's centre right faction, and its leading powerbroker Alex Hawke, who copped widespread blame for his alleged role in delaying preselections.
The Morning Edition newsletter is our guide to the day's most important and interesting stories, analysis and insights. Sign up here.
Kishor Napier-Raman
is a CBD columnist for The Sydney Morning Herald and The Age. Previously he worked as a reporter for Crikey, covering federal politics from the Canberra Press Gallery.
Connect via Twitter or email.