Opinion
Go west, we'll do just fine: Fittler makes all right moves with series on line
On the brink, Brad Fittler turned back to his personal origin: he went west. With the 2022 interstate series on the line after losing the first match in Sydney, the NSW coach and Panthers junior headed for the Nepean to collect Apisai Koroisau, the Penrith spark plug noticeable in his absence from Origin I. On his way, Fittler stopped in Belmore to pick up Matt Burton.
By the time he got onto the plane for Perth, he had assembled a line-up that turned this State of Origin match into Penrith versus Queensland.
With eight of last year's premiers aboard, Fittler kept going west. He took them until there was nowhere else to go. The far edge of the continent was as good a place as any to play a match that, in rugby league dramatics, was do or die. By the time they got there, it was either win this game or end up in the Indian Ocean.
If Penrith have accelerated club rugby league, however, Queensland have matched them in Origin. In tempo, the Blue Panthers have come up against their own mirror image; in Sydney the Maroon Panthers matched and beat them.
Sunday night's second game was just as quicksilver as the first: there was so much speed that the slippery Perth turf couldn't hold boots that whirred away like the coyote on an ice rink. Speed kills, eventually: as in Sydney, the question would be which team could survive the frantic opening with more energy, composure and will in the closing stages; which could keep sprinting an hour after starting.
With so much top-level rugby league based on patterns of completing sets, winning the ruck, establishing good field position and capitalising on opponents' errors, a refreshing quality of this year's Origin series has been how the speed of play has broken that careful patterning and left more scope for individual improvisation and brilliance.
In Perth, the pattern was broken early. Nathan Cleary charged down a Cameron Munster kick and, but for a bouncing ball that hated NSW like most Australians do, would have scored the first try. Soon after, James Tedesco's incision was pulled back by a technical refereeing call. The Blue Panthers had hit the ground faster than the Maroon ones.
Queensland kicked early and adventurously; they were almost rewarded from a Daly Cherry-Evans grubber that surprised everyone, not least his winger Selwyn Cobbo, who was unable to ground the ball. These were all exciting signs. In the 23rd minute Queensland brought on Harry Grant, an extra vertebra for their spine. Within seconds they scored the first try: Grant to Ben Hunt to Cherry-Evans to Kalyn Ponga, who sent Felise Kaufusi over.
If the Panthers (whether Blue or Maroon) have one defining mental characteristic, it is their self-confidence. These Blues were undaunted by the setback: minutes after falling behind, Cleary renewed his 2021 grand final connection with Burton, side-footing a delicate kick behind the rushing defence for the centre to scoop up and score.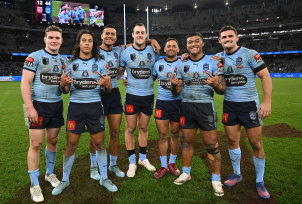 Now the tempo was shaking itself off the metronome. Queensland's Ponga again got outside his defender and linked with Valentine Holmes and Munster to retake the lead. Was it half-time yet? Nowhere near it. The Blues kept hammering Queensland's line until referee Ashley Klein gave them a hand, sin-binning Kaufusi after repeated infringements in defence.
In the final seconds of the half, a silky Penrith left-side chain – Cleary to Jarome Luai to Burton to Brian To'o – resulted in a try that gave NSW a lead they would not relinquish. Ten minutes with 12 men stretched the Queenslanders too far.
The Blue Panthers seized control in the second half and as Queensland broke, Penrith did what they do most weeks. Cleary looped a pinpoint pass to send Daniel Tupou into the right corner. Luai skipped and stepped and left Queenslanders tackling air. Cleary went over once, then twice, and Fittler was able to spend the last quarter of the match grinning and accepting acclamations of his genius.
It would be unfair to attribute the Blues' improvement only to their eight Panthers.
Jake Trbojevic was Fittler's Spakfilla, closing all the gaps that had opened in the first game. Trbojevic and Tedesco played well enough to be man of the match in any other circumstances. Tupou produced his best game for his state and put to rest any questions about his place. All the Blues got to enjoy what Penrith players get to enjoy most weeks.
The turnaround, both on the night and since the first game, should itself counter any complacency. Origin has a history of switchbacks and very few long straight roads. But for this night, at the far end of their road into the sunset, Fittler and his Penrith village people could celebrate the clarity of their vision. Go west they did, and the skies were blue. Go west, to sun in wintertime. Go west, and they felt just fine.
Watch the State of Origin exclusively live and free on Channel 9 and 9Now.