From Roe v Wade protests to John Lennon: The top five moments from Glastonbury
After two years of COVID cancellations, the UK's Glastonbury Festival returned this weekend in a swirl of joy and rage.
With more than 200,000 punters making the trip to Worthy Farm – many of whom were doing so for the first time, coming of age through the pandemic – the festival was a celebration; a triumphant return of the large-scale live music and festival culture people have been missing for so long.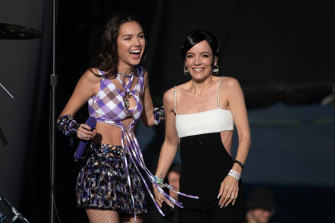 It was also a truly intergenerational affair, featuring both the youngest and oldest headliners in the event's history (Billie Eilish and Sir Paul McCartney respectively).
But, landing after the US Supreme Court's decision to overturn Roe v Wade and with a war raging in Ukraine, it was also a highly charged political event. Though the festival is known for its political roots and still frequently features appearances from activists, it's not every year the world's biggest pop acts get in on the action too.
Here are some of the biggest moments from the past five days.
Olivia Rodrigo and Lily Allen send a message to the Supreme Court
Though there were many strong condemnations of the Supreme Court over the weekend – including from Billie Eilish, Phoebe Bridgers and Lorde – the most striking came from 19-year-old Olivia Rodrigo.
The former Disney star explained the importance of the decision, describing herself as "devastated and terrified", before bringing out Glastonbury legend Lily Allen for a performance of Allen's 2009 hit F--- You.
"So many women and so many girls are going to die because of this," Rodrigo said. "And I wanted to dedicate this next song to the five members of the Supreme Court who told us, at the end of the day, they really don't give a shit about freedom."
Paul McCartney shows he's still got it
Performing a week after his 80th birthday, Paul McCartney made history as the oldest solo headliner in Glastonbury history. But his age definitely didn't hold him back.
McCartney delivered a huge set (literally and figuratively: it ran for nearly three hours) that was packed with nostalgia and surprise appearances. He was joined on stage by Bruce Springsteen and Dave Grohl – and, most remarkably, performed a "virtual duet" of I've Got a Feeling with late former bandmate John Lennon.
McCartney sang alongside Lennon's vocals, which had been isolated from the original song. This came about with some help from director Peter Jackson (who worked on the recent Beatles docu-series Get Back) and the result, according to both reviewers and festivalgoers, was pretty sublime.
"[The song was] authentically moving," The Guardian's critic wrote. "You hear McCartney's voice at 80 – thinner and raspier than it once was – set against Lennon's, frozen in time."
"I know it's virtual," McCartney said on stage. "But come on – it's John. We're back together."
Zelensky sets the tone
In a video message that opened one of the festival's main stages, Ukrainian president Volodymyr Zelensky urged festivalgoers to "spread the truth about Russia's war", donate to relief efforts and put pressure on politicians who can help restore peace.
"We want to stop the war before it ruins people's lives in other countries of Europe," he said. "Africa, Asia, Latin America – they are all under threat now."
The Libertines' singer Pete Doherty, who played immediately after the video message, led a chant of Zelensky's name with the crowd and, later on in the festival, McCartney waved a Ukrainian flag during his encore to massive applause.
Kalush Orchestra, the Ukrainian winners of this year's Eurovision competition, also performed at the event – marking their first-ever show in the UK.
Diana Ross brings the joy
Motown icon Diana Ross rightfully drew one of the biggest crowds of the festival, in Sunday afternoon's "legends slot" (which has previously been given to Kylie Minogue, Lionel Richie and Dolly Parton).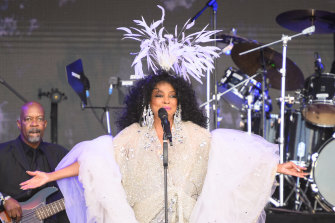 The 78-year-old singer launched straight into her hits including I'm Coming Out and Baby Love, and spoke about how much it meant to her to perform post-pandemic, after first being included in the program of the cancelled 2020 event.
Though some fans found her voice a little lacking, most agree it didn't matter as the set (and Ross' overall performance) was a total joy and tonic for what we've all endured the past few years.
Ross, dressed in a sequined robe and feather headpiece, even returned for an encore performance of I Will Survive (a song she covered back in 1996). Truly, the perfect track for these times.
Kendrick Lamar closes with a bang
Pulitzer Prize-winning rapper Kendrick Lamar closed out the festival with a hugely theatrical performance featuring an all-black dance troupe dressed in suits and red dresses. The performance included songs from his full catalogue, but the most impactful moment came right at the end during Savior, from his latest album Mr Morale & the Big Steppers.
Wearing a crown of thorns, and with blood pouring down his face, Lamar added the line "Godspeed for women's rights. They judge you, they judge Christ" and repeated it over and over again, before throwing the mic mid-sentence and leaving the dancers motionless on stage.
It might sound like a sombre note to end a headline set on but, for a festival this politically engaged and during a weekend this momentous, it's a fitting one too.
In need of some good news? The Greater Good newsletter delivers stories to your inbox to brighten your outlook. Sign up here.